What is Care Luga, Best Japanese Straightning perm NYC ?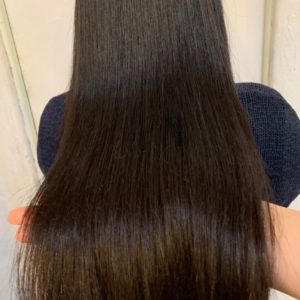 Care Luga, the "Magical Straightener," is a hair straightening process, but one with a different approach than typical hair straightening. Care Luga uses different techniques, chemicals and tools to help coax even stubborn hair to become soft, shiny, and straight.
Currently in the US, Nagi Hair is the only salon offering Care Luga.
Our favorite thing about Care Luga is the soft finish. Many customers who choose straightening in order to tame their hair's natural tendencies express concerns such as: "I don't want it to look fake" or "I want to be able to curl with a curling iron" or "I've had past experience with hair damage" or "I don't want my hair to get stiff" or "My hair will be too flat," etc. If you are someone with one or more of these concerns, you are precisely who we want to invite to try Care Luga straightening.
We think Care Luga can be especially helpful to anyone with the following experiences and/or wishes
"My unruly hair bothers me but I also don't want full-on, unnatural-looking straight hair."
"I've had multiple straight perms, and now I'm concerned that my hair is damaged."
"Recently, my hair gets dried out more easily, so I'm debating whether to keep getting straight perms or not."
"I wish my hair had more shine."
"Even though I get a treatment every time, my hair still loses shine right away."
"I want to grow my hair out long, but I always end up giving up halfway through."
From customers who have used Care Luga, we have heard comments like: "It's like it's not even my own hair!" or "I never thought my hair could have this much shine," or "I'm so happy that my hair moves naturally now."
How Does Care Luga Work?
Step-By-Step Process

1. Consultation

We start with a thorough consultation. This is one of the most important things to us at Nagi Hair. With straight perms or glossy hair treatments, the technique varies depending on whether customers want to reduce volume or get a straight perm that keeps volume. Everyone has different tastes, thoughts, and concerns about their own hair. Our goal is to listen to you tell us your story for the first time. We encourage you to abandon any preconceived notions and please talk to us and help us get to know you.
2. Shampoo and Nutrient Retention
We add moisture with a special shampoo for straight perms. Then, based on the condition of your hair, we replenish a few different Care Luga-specific nutrients.

3. Perm solution application
The special Care Luga perm solution, which creates minimal hair damage, gets applied in 2 steps.
4. Far-infrared rays
Here again we use a special Care Luga machine. Using the wavelength of the far-infrared rays, this machine saturates your hair with the perm solution and treatment, slowly and thoroughly. In cooking terms, you might imagine the difference between a microwave oven that heats something at high temperature all at once versus the Care Luga way of using low heat to slowly, gently, and steadily deliver the "flavors."
5. 
Rinse


There is even a special technique to rinsing out the solution gently using only warm water. This is an important part of the process because it helps prevent unnecessary hair damage.
6. Nutrient delivery
Before drying, we deliver another batch of nutrients deep into your hair using far-infrared rays.
7. We will blow dry your hair carefully and thoroughly.
We blow dry first, and then work with the straightening iron. In laundry terms, this is the equivalent of taking wet clothes and shaking out or pressing out wrinkles before hanging them to dry, making it easier to iron them gently later.

8. Straightening Iron
We use a specialized tool to carefully straighten your hair.
9. Solution application
The goal of the perm solution here is to make your hair memorize shape and form.
10. Rinse

This is the last step in the Care Luga process. Using a luxe treatment at this point will help your finished hair look more shiny, feel more soft, and be more beautiful.
Custmer feedback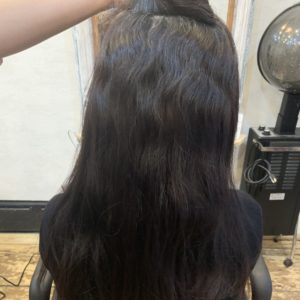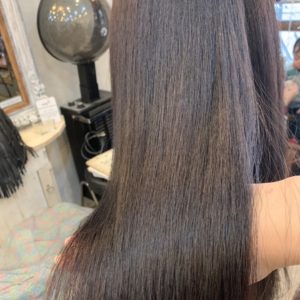 I was a little nervous because it's been many years since I had a straight perm. But I was comfortable to visit the salon after Nagi hair gave me detailed information and checked my current hair condition over email conversations.  I do color my hair quite often due to grey hair, the staff were applying different strengths of straight perm liquid depending on the area.  After the procedure, I was amazed that my hair was so soft and fluffy.  And surprisingly (about a week later) it remains shiny and naturally straight as the day I had the straight perm at Nagi hair (which hadn't happened until I went to Nagi hair!!).  Thank you so much.
M.T
I had this new Japanese hair straightening perm for the first time the other day. I was really surprised by the result, especially considering that I've been getting regular Japanese hair straitening perms every 6 months to 1year for over 10 years. I have super sensitive skin so a lot of times the cream that they use during the session leaves me with this tingly feeling and the toxic chemical smell stays on my head for few days. I did not have any of these issues with the new perm session this time! They also use a far infrared machine instead of using the regular heating machine to let the cream penetrate into the hair. It sometimes feels like my head is burning when I use a regular machine but I was totally fine and comfortable for the whole time with their new heating machine! I'm very happy with the texture of my hair. It's naturally smooth and soft without an artificial straight look. This is my 4th day after the session and I have washed my hair twice so far (I started washing 2 days after the session). The wavy locks did not come back and my hair now has a beautiful natural straight look. I also liked the hair dryer and hair ironer by Luminelle that they use at Nagi hair. They both minimize the damage to your hair. (I want to actually purchase them!) I had a very relaxing time at the salon being surrounded by great furnitures and cute plant decor. Most importantly the staff was incredibly warm and friendly.    I highly recommend this new Japanese hair straighening to people who have sensitive skin or want to have less damage or are simply seeking to have a beautiful and organic straight looking hair!
P.P
The treatment makes hair super sleek and smooth, not only when you stepping out of the salon, but after days, you will look as if you spent a good amount of time on blow drying. All you will need going forward in the morning is just a comb and your hair will completely be socially presentable. To be honest, the whole process takes a little bit of time. The length of my hair is about to touch the shoulders and it took me good three hours from the beginning to the end. I am not sure how long it would take if your hair is longer.  But considering the amount of time I will be saving every morning and compliment I get each day on how shiny my hair is, it's totally worth it and recommended investment to make.
H.F
Care Luga First time client promotion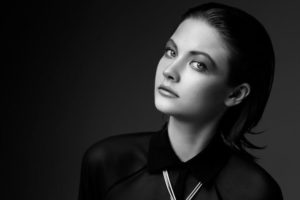 We have promotion for First time client.
$700→$350 for now
2nd time in 6month $425
2nd time in 1yeas $525