Book your appointment
Thanks to all of you, NAGIHAIR's second salon, NAGI+, is now open at CHELSEA.Next door is an affiliated salon, LENDEN.
10% discount on all menu items for the grand opening of NAGI+.(Excludes services that are already discounted or discounted for the first time.)
※This offer is limited to Chelsea locations only.
Looking forward to seeing you all!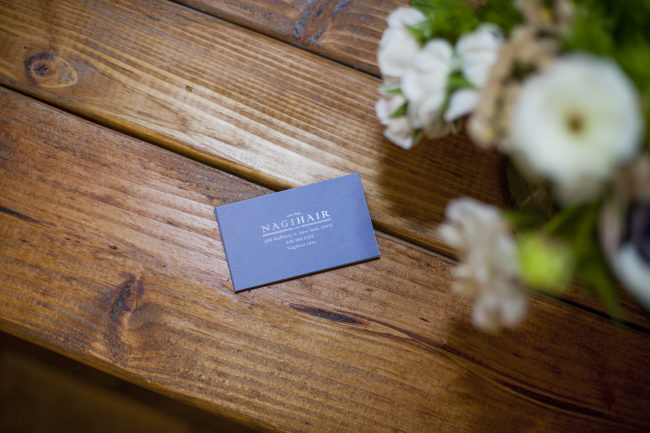 Book online(24Hours)
→With new customers, before we discuss a specific hairstyle, we like to first ask about current hair condition and regular hair routine, and then offer advice about style options based on that conversation. It will take about 15-30 min. So please come with plenty of time.
First-time customers should select  ※New client  before choosing the menu please.
1 First, select New client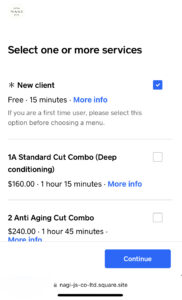 2 Scroll down and you will see other menus.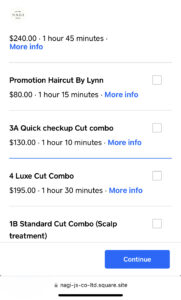 3 Click in the box to check.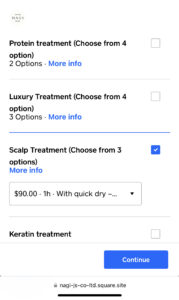 4 For menus that have other options, press the arrow to select more menus from the list.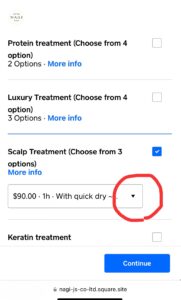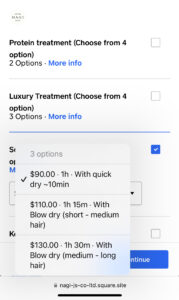 ※Credit Card information is required in order to hold any appointment.
※ Color, perms, straightening, etc. that require highlights or bleaching may not be possible depending on the condition of the hair.
Be sure to call and ask the salon before booking or send us a picture of your hair in its current state and a picture of the hair you want done nagihairny@gmail.com 
or message us via Instagram.
Thank you
※We have a waiting list, but will only contact clients when available.
Call 
6464846292
   Tuesday~Saturday  11:00~20:00
    Sunday                       10:00~18:00
※Credit Card information is required in order to hold any appointment.
Our Cancellation policy
50% of full appointment value within 24 Hours of appointment.
"NO SHOW" will be charged 100% of service amount.